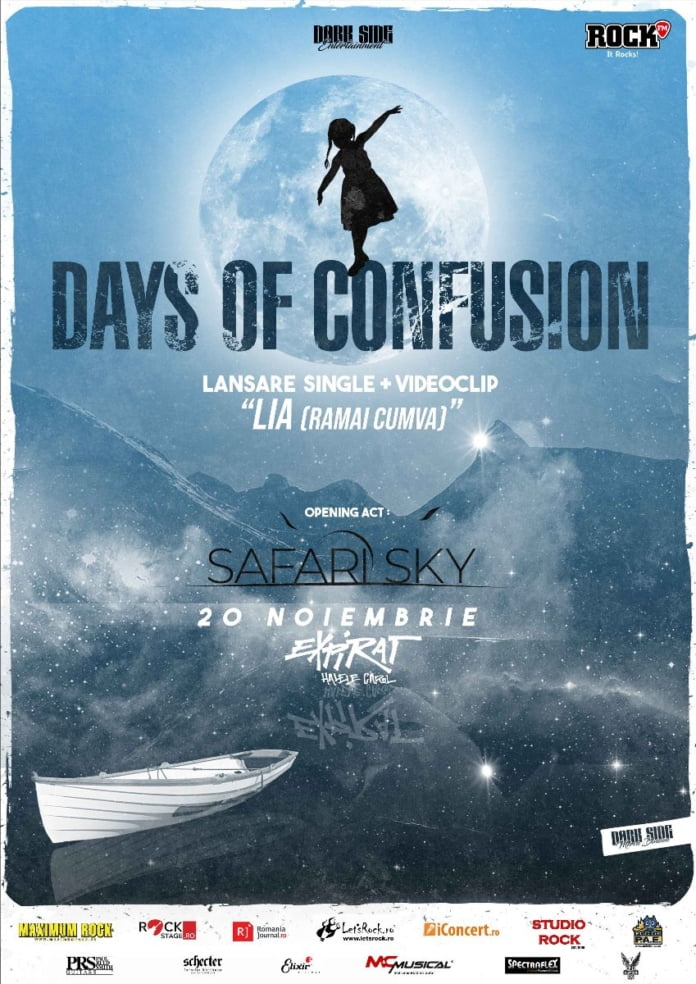 BUCURESTI, 20 NOIEMBRIE, 2019
 – 
Daca este 20 noiembrie, avem concert de lansare single & video cu DAYS OF CONFUSION, in Expirat.
"Lia (Ramai Cumva)", prima piesa compusa in limba romana, se va auzi in seara aceasta. Ca preambul al evenimentulului va lasam MAI JOS cateva secvente din videoclipul melodiei.
TEASER VIDEO: https://www.youtube.com/watch?v=LkFQIUK5N-0&feature=youtu.be&fbclid=IwAR1eKVBfGfTzboo4HmKaaDl2OHNy06KZwFzhNWOpLkvp9vQdj9p5pWablJA
Program:
Open Doors: 20.00
Safari Sky: 21.00 – 21.40
DAYS OF CONFUSION: 22.00
Acces: 30 lei – presale / 40 lei – la intrare
Bilete sunt disponibile in presale via iaBilet.ro! https://www.iabilet.ro/bilete-days-of-confusion-lansare-lia-ramai-cumva-expirat-20-11-46759/?utm_source=HpCeleMaiVanduteWeb
NU va fi permis accesul cu:
• artificii;
• orice fel de conserve, sticle din material plastic, sticle din sticla (inclusiv sticlele de parfum de orice cantitate), bidoane de plastic, cutii de bautura;
• bannere susținute de bete;
• spray-uri, scaune, arme, obiecte contondente, umbrele;
• bautura alcoolica, mancare;
• animale de companie;
• lanturi, bagaje voluminoase, lasere;
Va asteptam la concert!