Rockstadt Extreme Fest 2023 anunta programul si lineup-ul pe zile si pune in vanzare bilete pe zile!
Acestea vor fi disponibile in numar limitat pentru fiecare zi, din cauza cererii mari de abonamente.
Pretul biletelor pe zi este de 335 lei (68 euros) + taxe si pot fi cumparate de pe Rockstadt Extreme Fest sau de pe https://www.iabilet.ro/.
Organizatorii anunta inca o schimbare de line-up. Din pacate trupa The Acacia Strain este nevoita sa isi anuleze turneul european, iar show-ul lor de la Rockstadt Extreme Fest va cel mai probabil amanat pentru 2024. Mai jos aveti comunicatul trupei:
"Recent am primit oportunitatea de a merge in turneu in America de nord si am simtit ca asta ar fi cea mai buna optiune pentru trupa si coincide cu planurile noastre pe termen lung. Din acest motiv vom anula concertele programate pentru august 2023 in Europa. Ne cerem scuze fanilor si organizatorilor care sunt dezamagiti de aceasta decizie. Pentru prima data dupa mult timp se pare ca pentru TAS se intampla in sfarsit ceva in Europa si asteptam sa revenim in 2024. Multumim pentru intelegere."
In locul celor de la  The Acacia Strain, pe scena vor urca formatia de hard core punk din Orange County, Stick to Your Guns.
In ceea ce priveste cele 8 trupe ramase, acestea vor fi dezvaluite in scurt timp.
Rockstadt Extreme Fest 2023 va avea loc in perioada 2-6 august 2023, iar mai jos aveti programul pe zile: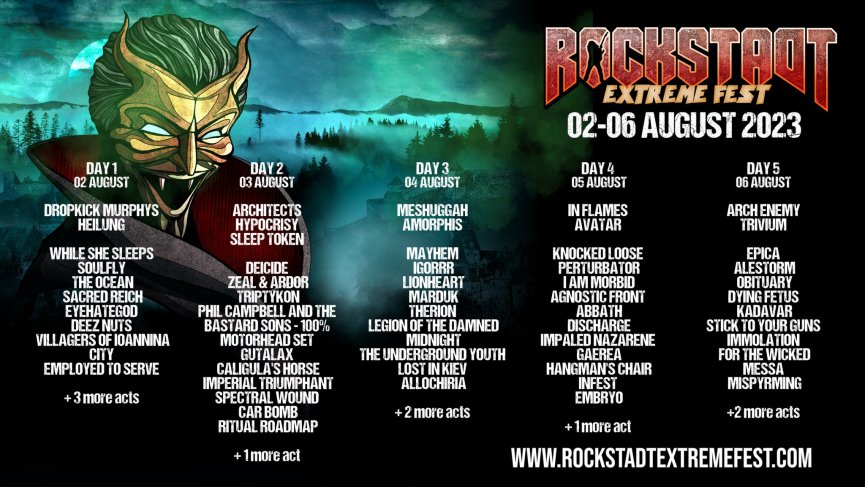 Pentru mai multe detalii despre lineup si pretul biletelor accesati site-ul https://www.rockstadtextremefest.com/