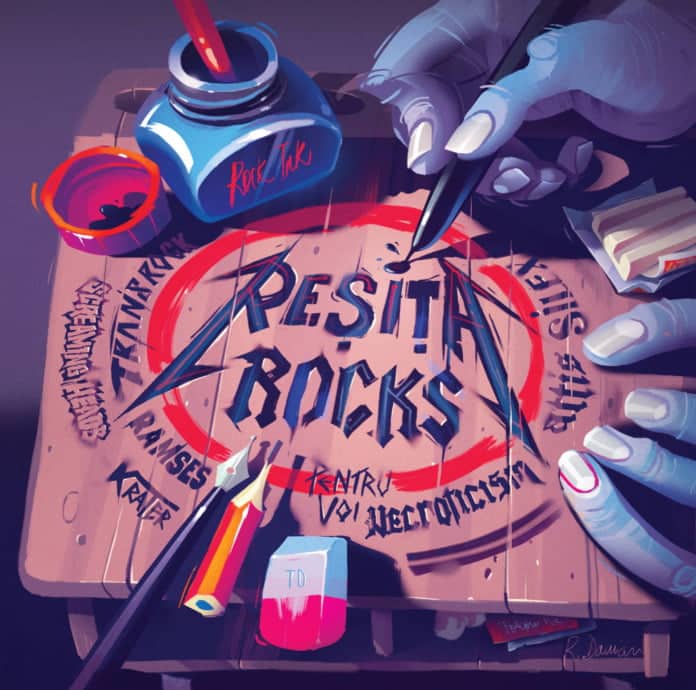 Proiectul RESITA ROCKS a lansat albumul "Nascuti din foc", un titlu sugestiv cu trimitere la vechiile traditii industriale ale Resitei. Acesta contine 11 piese, cuprinzand genuri diferite, de la Hard Rock si Melodic Metal pana la Hardcore si Death Metal. Piesele au fost inregistrate alaturi de unii dintre cei mai valorosi muzicieni din Romania: Dana Borteanu (PRO MUSICA, STEPAN PROJECT), Calin Pop (CELELALTE CUVINTE), Ovidiu Anton, Costin Adam (PHOENIX), Octavian "Vita" Horvath (IMPLANT PENTRU REFUZ, BLAZZAJ), Vlad Busca (L.O.S.T.), Adrian "Molester" Dan (LOUDRAGE), Ionut "Rocco" Frujina (ROCK N GHENA).
"Nascuti din foc" este disponibil in format digital prin Universal Music Romania si pe CD prin Loud Rage Music.
Stream/download: https://umrdd.lnk.to/NascutiDinFocPR
Cumpara CD: http://shop.loudragemusic.com/resita-rocks-nascuti-din-foc
Grafica albumului, ce cuprinde un booklet cu textele tuturor pieselor, poze de arhiva si un eseu scris de Doru "Rocker" Ionescu, a fost realizata de artistul Radu Damian, cunoscut pentru colaborarile sale cu GOODBYE TO GRAVITY, BUCIUM, WHITE WALLS, DINUMBRA sau Calin Pop (CELELALTE CUVINTE).
Tracklist:
Nascut din furtuna (feat. Dana Borteanu)
Singuri printre oameni (feat. Costin Adam)
Never Let Go (feat. Ovidiu Anton)
Garoafa rosie (feat. Calin Pop)
A God Damn Life (feat. Vita)
Blestem (feat. Vlad Busca & Molester)
The Only One (feat. Rocco)
Apa vie (feat. Dana Borteanu)
Evolutie (instrumental)
Povestea soaptelor (feat. Calin Pop)
Humanity (feat. Costin Adam)
Album trailer: https://youtu.be/xKx9-0aIN9c
RESITA ROCKS este un proiect infiintat de muzicienii Toni Dijmarescu (chitara), Adrian Nitulescu (bass) si Flavius Suciu (tobe), cu scopul de a restitui cateva dintre piesele trupelor rock din Banatul Montan, active intre anii '80 și '90, trupe ce nu au avut posibilitatea la acea vreme de a-si inregistra profesional materialele (SCREAMING HEADS, SILEX, TRANSROCK, PENTRU VOI, ATTIS, NECROTICISM, RAMSES).
Facebook: www.facebook.com/ResitaRocks
Contact U Rock / Universal Music Romania:
www.facebook.com/uRockmusicpage
Contact Loud Rage Music:
https://www.facebook.com/loudragemusic
http://shop.loudragemusic.com