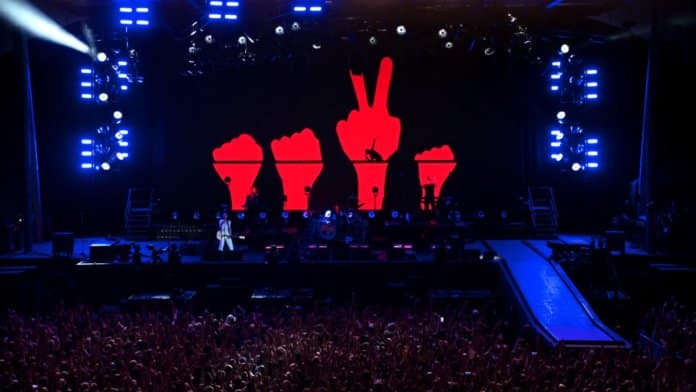 Pelicula este un mix intre povesti emotionante despre puterea universala a muzicii si momente de pe scena ale trupei din turneul record 2017/2018 GLOBAL SPIRIT. Filmul va fi lansat de TRAFALGAR RELEASING si SONY MUSIC ENTERTAINMENT ca o proiectie speciala de 1 noapte in teatrele din intreaga lume, pe 21 noiembrie 2019. Biletele s-au pus in vanzare incepand de astazi, 26 septembrie, pe spiritsintheforest.com.

Membrii Depeche Mode in colaborare cu Trafalgar Releasing, Sony Music Entertainment si BBH Entertainment anunta lansarea noului documentar muzical SPIRITS in the Forest. Filmul va fi proiectat intr-un eveniment de o singura sears, pe 21 noiembrie 2019 si se adreseaza tuturor fanilor trupei cu care Depeche Mode isi doreste sa celebreze impactul muzicii si al concertelor lor. SPIRITS in the Forest va fi difuzat in peste 2400 de cinematografe, din Adelaide pana in Zagreb, in peste 70 de țări, fiind prezent si in multiple cinematografe din Romania.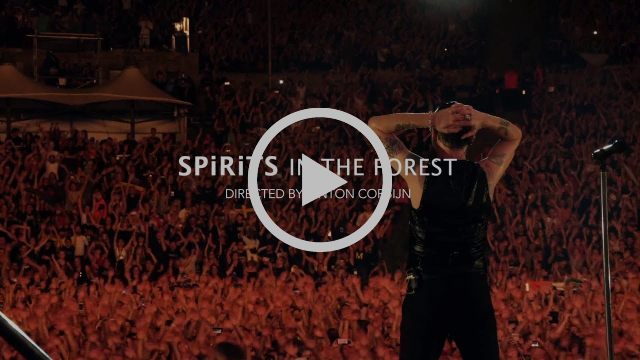 TRAILER Depeche Mode: SPIRITS in the Forest
Depeche Mode: SPIRITS in the Forest este regizat de Anton Corbijn, colaborator vechi al trupei si regizor premiat. Pelicula urmareste evolutia Depeche Mode in turneul 2017/2018 Global Spirit Tour, cu care formatia a ajuns la nu mai puțin de 3 milioane de fani in 115 de concerte. Documentarul urmeaza povestile emotionante a 6 fani Depeche Mode si imbina momente din show-urile live ale trupei pe Waldbühne ("Forest Stage") din Berlin, cu imagini intime filmate in orasele natale ale fanilor. Filmul arata cum si de ce popularitatea si relevanta trupei a continuat sa creasca de-a lungul carierei lor, si surprinde incredibila putere a muzicii lor de a crea comunitati, de a ajuta oamenii sa-si depaseasca momente dificile si sa fie conectati indiferent de barierele de limba, tara, gen, varsta sau context.

"Sunt foarte mandru sa prezentam acest film si povestea puternica din spatele lui", declara Dave Gahan, solistul Depeche Mode. "Este minunat să vezi cât de mult muzica noastra a impactat vietile fanilor nostri." Adauga Martin Gore, "In lumea agitata si divizata de astazi, muzica poate fi o forta a binelui, capabila sa ne uneasca."

Marc Allenby, CEO Trafalgar Releasing declara: "Compania Trafalgar Releasing este entuziasmata sa colaboreze cu Sony Music si echipa Depeche Mode pentru noua lansare SPIRITS in the Forest. Cu sunetul lor distinct, Depeche Mode este o trupa care a inovat in permanenta in muzica, iar noi ne dorim sa unim fanii lor din întreaga lume si să celebram unul din cele mai bune si influente nume in muzica secolului nostru."

Anul 2019 a insemnat lansari importante in cinematografe pentru Trafalgar Releasing. Printre succesele recente: BRING THE SOUL: THE MOVIE, devenit cea mai mare lansare in cinema-uri la nivel global, Grateful Dead's 9th Annual Meet-Up at the Movies, documentarul Tribeca Between Me and My Mind despre solistul trupei Phish, Trey Anastasio, Rush Cinema Strangiato 2019 si The Cure: Anniversary 1978-2018 Live in Hyde Park London.

Portofoliul muzical Trafalgar Releasing include si viitorul Roger Waters Us + Them, recent lansat global la Festivalul Internațional de Film din Venetia, Metallica and San Francisco Symphony: S&M² si Shakira in Concert: El Dorado World Tour. Echipa biroului londonez a lansat si Coldplay: A Head Full of Dreams, The Music Center presents Joni 75: A Birthday Celebration, Khalid Free Spirit, One More Time with Feeling, printre multe altele.

Depeche Mode: SPIRITS in the Forest va fi difuzat pe 21 noiembrie. Biletele s-au pus in vanzare pe spiritsintheforest.com, unde fanii pot gasi cele mai noi informatii despre teatrele incluse in proiectie si se pot abona la newsletterele trupei.

Data proiectiei: 21 noiembrie, 2019

Website: spiritsintheforest.com
Facebook – https://www.facebook.com/depechemode
Instagram – https://www.instagram.com/depechemode/
Twitter – https://twitter.com/depechemode

Pentru mai multe informatii:

Ollie Charles | ollie.c@trafalgar-releasing.com | +44 (0)7471 907 077

Despre Trafalgar Releasing

Trafalgar Releasing este liderul global in distributia de evenimente in cinema. Subsidiara a companiei Trafalgar Entertainment, Trafalgar Releasing are operatiuni globale ce includ: productia, achizitia, marketingul si distributia de continut specializat in peste 4000 de cinematografe din peste 100 de tari.

Portofoliul include lansari precum: The Metropolitan Opera, Bolshoi Ballet, Royal Opera House, productii de teatru premiate (The King and I: from the London Palladium, An American In Paris, Funny Girl), momente iconice (Monty Python Live, David Bowie is happening now, They Shall Not Grow Old), show-uri muzicale de legenda (Roger Waters The Wall, David Gilmour Live in Pompeii, Nick Cave and The Bad Seeds) si productii contemporane spectaculoase (BTS' Burn the Stage the Movie, Coldplay: A Head Full of Dreams, Muse Drones World Tour). Cu sediul in Londra, compania are si birouri in New York, Los Angeles si Denver. Mai multe informatii despre Trafalgar Releasing pot fi accesate pe www.Trafalgar-Releasing.com.

Despre Emagic
Emagic a organizat cele trei concerte pe stadion ale trupei Depeche Mode in Romania: 2006 – Stadionul Lia Manoliu, 2013 – Arena Nationala si 2017 – Cluj Arena, ca parte a turneului Global Spirit.