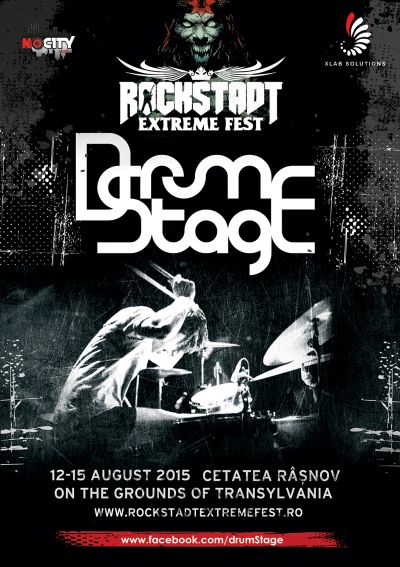 Proiectul Drum Stage, demarat si organizat de No City Studio in colaborare cu X-Lab Solutions, va fi prezent la Rockstadt Extreme Fest in cea mai complexa formula de pana acum.
Aflat la a patra editie, Drum Stage are un format dinamic, centrat pe conceptul de "drum battle", alaturi de recitaluri, workshop-uri, concursuri, discutii despre echipamente in live/studio si nu in ultimul rand "meet and greet".
Filmari de la editiile precedente pot fi urmarite pe pagina de facebook si pe canalul oficial de youtube:
 https://www.facebook.com/drumStage
https://www.youtube.com/channel/UChYvjnIHKfRbgQr33q8snjg
https://youtu.be/6oaEJ0cQ22E?list=http://youtu.be/
Septimiul Harsan
Tobosarul trupelor Necrovile (brutal death metal), The Thirteenth Sun (atmospheric rock/metal), Code Red (death metal), Spectral (technical death metal), Aria Urbana (electro) si Indian Fall (melodic black metal), avand de asemenea un proiect alaturi de chitaristul sarb Miloš Batoćanin (Synesis Absorption, Disdained) si diverse alte colaborari in calitate de session drummer, este primul si singurul instrumentist roman care a aparut in cunoscuta publicatie Sick Drummer Magazine, cu trei ocazii.
Un articol, un feature pe compilatia "Brutal Beatings" si un interviu in exclusivitate, alaturi de mai multe clipuri publicate de-a lungul timpului pe site. La 27 de ani (n. 18 septembrie 1987), Septimiu Harsan practica instrumentul de aproximativ 15 ani, deşi primul set de tobe l-a avut abia în anul 2008.
Venit dintr-un background metal, din zona thrash/speed, a inceput sa aprofundeze mai multe abordari stilistice la tobe: jazz, funk, progressive rock, death metal si chiar beaturi electronice. A urmatcursuri de teoria muzicii, armonie si percutie clasica, in paralel fiind student si la Facultatea de Litere.
[ot-video][/ot-video]
Marian Mihaila 
A început sa bata la tobe la varsta de 17 ani, vinovat pentru asta fiind Lars Ulrich. A trecut prin multe incercari de cover-uri (autodidact fiind), urmarind ca mereu sa abordeze piese care sa reprezinte o provocare pentru el.
Prin 2002 a pus bazele trupei Protest Urban, in 2009 a luat naștere White Walls iar intre ele a mai activat in Fortuneteller, Interitus Dei, Men In The Mirror (Michael Jackson tribute band) si Lupu' cel Rau.
A reușit sa isi cumpere primul set de tobe prin 2007, un Mapex Pro M (2 tom-uri, 2 floor tom-uri)  pe care l-a folosit atat la inregistrari cat si in concerte. Ca si fete de tobe foloseste Remo Ebony Pinstripe,  cinele le sunt Sabiansi Istanbul, iar pedala dubla DW 9002.
[ot-video][/ot-video]
Alex Halmagean
"Tobele au inceput sa ma pasioneze de la varsta de 18 ani si in acelasi an de ziua mea am primit primul meu set de tobe cadou de la mama mea.
Nu am luat lectii de tobe deoarece eu si cu chitaristul din trupa ne ambitionam unul pe celalalt spre bine si eram obisnuiti inca de la inceput de ajutorul videourilor de pe you tube.
Am fost ajutat mult de piesele dupa care faceam cover deoarece tot timpul incercam o piesa mai grea pentru mine si dupa ceva timp m-am decis sa imi si fac o pagina pe care sa le postez."
Proiecte muzicale: Qualia, Elder Entity
[ot-video][/ot-video]
Cei 11 tobosari deja anuntati in line-up: Andrei Ilie (Days of Confusion), Sergio Ponti (Dor De Duh), Adrian Tabacaru (Taine), Teodor Ciobanu (Electric Fence), Alex Muşat (Awake), Teo Popp (Dark Fusion), Razvan Ristea (Luna Amara), Tarocco Alex ( Krepuskul), Adam Marko, Flavius Hosu, Chris Olsman.
La Rockstadt Extreme Fest, proiectul Drum Stage va putea fi vizitat pe parcursul zilelor de 13-15 August. Pentru cei ce vor sa participe activ la workshop/tutoriale, Drum Stage pune la dispozitie bilete cu accces special (Meet and Greet, Full acces backstage Drum Stage, drum time cu sau fara antrenor, participa reactiva la workshop, fie pe scena sau in public) in valoare de 25 ron (5.6 Euro)
Facebook event:  http://on.fb.me/1DvsG91
https://www.facebook.com/rockstadtextremefest
Biletele cu acces special la Drum Stage sunt disponibile numai in varianta platii anticipate prin Pay Pal (la adresa https://www.paypal.com/ro/webapps/mpp/home – send payment @ mihnea.grecu@xlab.ro )