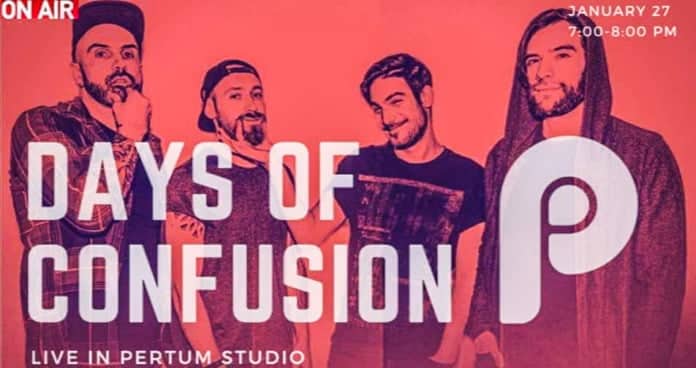 Primul concert electric, pe anul 2021, pentru formatia Days of Confusion va avea loc miercuri, 27 ianuarie, intr-un eveniment organizat de Pertum TV si transmis via Facebook LIVE, în conditii de siguranta epidemiologica pentru prevenirea infectarilor cu virusul SARS CoV-2.
Concertul va dura aproximativ un ceas si va putea fi urmarit in mod gratuit de catre doritori!
Programul complet va fi anuntat in scurt timp! Mai multe detalii gasiti pe pagina noastra de facebook, https://www.facebook.com/DAYS.OF.CONFUSION.OFFICIAL.PAGE sau pe pagina oficiala a evenimentului, https://fb.me/e/1Y7d2m3QK
PERTUM TV este un proiect independent, ce vine in sprjinul artistilor ca alternativa la situatia delicata actuala a industriei muzicale, punand la dispozitie productie si distributie de continut video & audio LIVE de calitate (DJ Set si Live Performance).
DESPRE DAYS OF CONFUSION
DAYS OF CONFUSION, trupa Universal Music Romania, este cea mai cunoscuta formatie romaneasca de djent/modern progressive metal ce a luat fiinta in anul 2010, in București.
Baietii au obtinut pana in prezent premiul pentru BEST ROMANIAN METAL NEWCOMER 2012, (acordat de Metalhead), iar in 2014 au fost nominalizati la CEL MAI BUN HARD ROCK/HEAVY METAL (la OnAir Music Awards) și la BEST ROCK ARTIST (la premiile revistei Sunete).
In cei 9 ani de cand Days Of Confusion sunt o prezenta activa pe scena muzicala, au trecut prin schimbari de componenta care si-au pus amprenta intr-un mod pozitiv asupra formatiei, conturand maturitatea genului muzical pana in prezent.
Organizatorii de concerte aveau sa-i crediteze pe cei de la Days Of Confusion ca trupa in deschiderea multor concerte importante, precum ar fi legendarii QUEENSRYCHE, 20 octombrie 2013, sau cei de la KARNIVOOL, 20 iunie 2014, trupa australiana cu o aparitie foarte rara pentru scena metal din Romania sau, 2019, la Rock The City pentru THE CURE.
•              `Seeds` (EP, 2012)
•              `Yin & Out` (LP, 2017)
DAYS OF CONFUSION inseamna:
    Cosmin Lupu – voce/chitara
    Cezar Popescu – chitara/voce
    Andrei Zamfir – chitara bas
    Alex Halmagean – tobe